Whichever way one turns in the world these days, there seems to be a plethora of disturbing, scary, depressing news.  And whether it's war, climate change, rates of extinction, or "false facts," so much of it seems to be our doing.
I don't pretend I find comfort by walking around saying "I don't believe that."  I wish I could, but although I'm highly skeptical of a lot of reporting, I can't argue that I think the world is really a jolly great place right now with a bright future we don't have to worry about.
And religion and science add their discouraging bit.  Modern Christianity teaches that Augustine of Hippo was right when he said we're all born in a state of sin.  Freud argued that what really motivates us is sex.  Not love, not reason, but pleasure.  Orgasms.  Today sociobiology says the same thing is a slightly more esoteric form, arguing that what drives us all is the continuation and spread of our own genes.  Those who do not engage in overt sex, like worker ants or celibate priests or nuns do so in order to protect and care for their own and so increase the likelihood of their own group survival.  Other theories posit survival as our strongest motivating source as well.
All of these ideas basically say that each of us is fundamentally driven by self-service.
What none of these theories can explain adequately, however, is intra-species altruistic behavior.  Why would dolphins save the lives of swimmers from an attacking shark?  Why would a lion save the life of baby monkey that's fallen from the tree?  Why would a bear share its food with a starving cat that got inside its cage?  Why did crows bring those trinkets to the little girl who left them food?  There are millions of examples of this kind of behavior in the world every day.
Why is this policeman comforting Panda, scared after the
earthquake in Japan?
I am quite committed to the view that we are each responsible first and foremost for ourselves.  Without a sense of self-preservation, we remain in psychological babyhood, needing someone else to care for us.  But I think there is a deep spontaneous altruism, a sense of mutual responsibility, in all of us as well.  In fact, I believe it is evident in all living things.  Even trees are known to communicate to each other that a dangerous disease is in the air.
I just went to Google and typed in "animals helping each other."  There are thousands of examples, photos and videos.  Here is one video.  I suspect that you have examples of your own.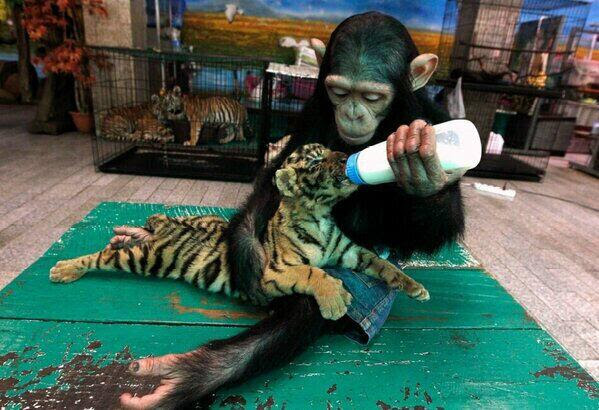 Two year-old Chimpanzee feeding
milk   to "Aorn", a small tiger 60 days
old.
.