We watched the negotiators in Paris yesterday when the French foreign minister Laurent Fabius announced that almost 200 countries in the world had reached agreement on climate change.  There was a moment of dumb silence, and then an explosion of celebration.  They had done it!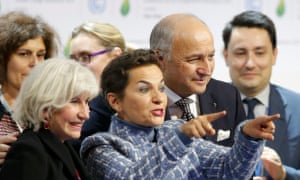 from TheGuardian.com
Yes, I know it is only the first step to saving the only planet on which we live, and which is uniquely ours.
Yes, I've read enough of what is contained in the legally binding agreement to know that without good will, determination, generosity, and creativity we will continue down the road to destroying our only home.
So the problem is not done and dusted.  There is a great deal of hard work and sacrifice still facing us.  Governments, business, communities, and individuals must all do our part.
But we have taken an absolutely huge and essential first step without which no progress at all could be made.  And until the last minute, that was by no means assured.
And so I am celebrating the future of mankind today.
Truly it is a day that brings us Tidings of Good News.